Summary
This intervention was planned as a philosophical contribution about social processes, opendata and feminist discourse, as well as the purposes of an alternative informatics association.
Due to connection issues, we were sadly not able to connect to Aslı Telli Aydemir in Turkey and had to abort after more than an hour of trying.
---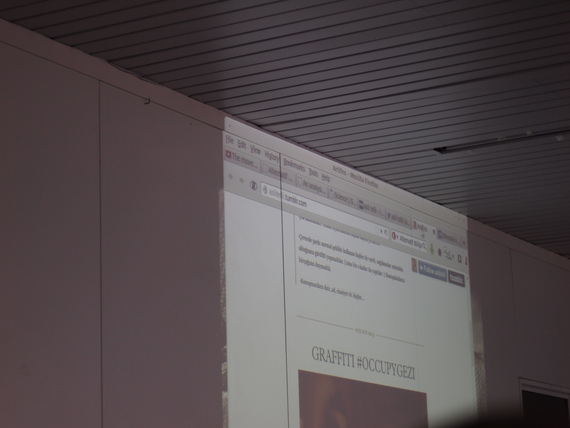 ---
Notes
Read the live notes at <http://vj14.constantvzw.org/r/notes::sunday>
---
Filtering, state control, blocking of content, monitoring of communication in Turkey: <http://alternatifbilisim.org/wiki/English>.
---
Wendy invited The Movement Against State Controlled Internet to "Are You Being Served?" as a statement about the uses of technology in such situations. Lots of people have built tunnels in Turkey in the last years. It is also difficult to get visas to travel.
---
Last Friday, we tried to connect to Istanbul but we got stuck in VoIP config issues in Jitsi. On the other side of the line, there is Asli Telli from Occupy Gezi. Her research focus on DIY and free and open source technology.
---
14h33 → Wendy is setting up a Jitsi connection with Asli. She can hear us, we can hear her (so far everything is great) but then we need to output on the speakers which takes a bit of time… too much time.
Documentation